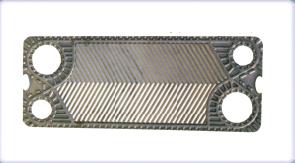 Add to Favorites
Share
BR Plate Heat Exchanger
Payment

Origin

China Mainland

Minimum Order

10

Packing

Pieces

Inspection

email : der@designsonjewellery.com

Remarks

welcome contact by phone number/whatsapp:
Product Detail
heat transfer efficiency The corrugated sheet to the smaller flow rate of fluid formed in severe turbulence, when the Reynolds number Re is about 200 hours. That can produce turbulence. Therefore, the heat transfer efficiency, the heat transfer coefficient of shell and tube heat exchanger 3 to 5 times.

versatile Plate heat exchanger ability to adapt to conditions. Has been designed for good or used plate heat exchanger, only increase or decrease the number plate or change the combination plate, you can adapt to changes in production capacity and new condition requirements.

compact Small footprint, shell and tube heat exchanger is only 1/5 to 1/0: light weight, shell and tube is only 1/5 or so.
1
YRS
DES CENTRIFUCE MANUFACTURING CO.,LTD
China
Favorites
der@designsonjewellery.com