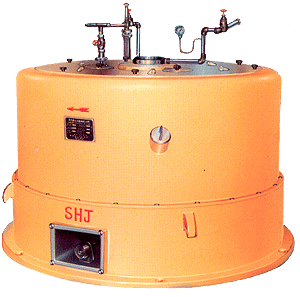 Add to Favorites
Share
Vertical Slip-discharge Centrifuge
Payment

Origin

China Mainland

Minimum Order

10

Packing

Pieces

Inspection

email : der@designsonjewellery.com

Remarks

welcome contact by phone number/whatsapp:
Product Detail
The vertical slip-discharge screen centrifuge is a continuous operated filtering centrifuge. All the operations-feed, separation, wash, dewater and discharge-go on continuously and automatically at full speed running. It is used in sugar mills for separation of molasses from last massecuite (C-massecuite). It is also suited for separtion of B-massecuite.
Massecuite enters into the distributor from the feed pipe. Then it passes through the accelerator and is quickly and uniformly distributed on the screen to be separated there. By the action of centrifugal force, the massecuite is moved from the smaller end of the basket toward the larger end. The sugar solids on the screen are dewatered gradually and, because of inertia, are discharged.

2
YRS
DES CENTRIFUCE MANUFACTURING CO.,LTD
China
Favorites
der@designsonjewellery.com