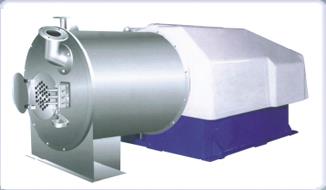 Add to Favorites
Share
TWO-STAGE PUSHER CENTRIFUGE
Payment

Origin

China Mainland

Minimum Order

10

Packing

Pieces

Inspection

email : der@designsonjewellery.com

Remarks

welcome contact by phone number/whatsapp:
Product Detail
Model HR horizontal double-stage piston pusher centrifuge mainly consists of pump assemby, pusher mechanism,flame,bearing, bowl, sieves, control-box, etc. Pusher mechanism. bowl and other parts are supported on the flame by bearing assembly. The pump assembly is also supposed by the flame, of which oil pump stretching into the oil pond. Rotary body is connected with the main machine through Vbelt. Electric control-box is an independent system, installed in a suitable place for main machine. After main motor rotates at full speed, the suspe -nsion is fed into distributor of the outside bowl through the inlet tube. Withthe action of centrifugal force, the suspension is dispersed all over the sieves evenly. The liquid is separated and given off by the clearance of sieves and filter holes of the bowl. The solid stays on the sieves, thus axially moved and finally discharged through the collection channel on front of the second stage bowl.
1
YRS
DES CENTRIFUCE MANUFACTURING CO.,LTD
China
Favorites
der@designsonjewellery.com